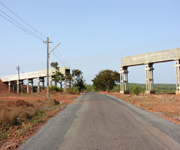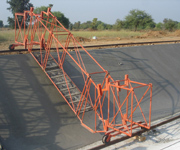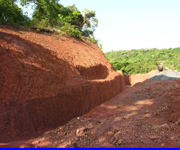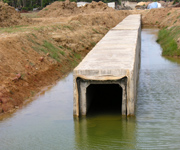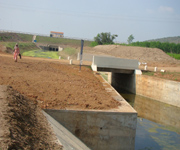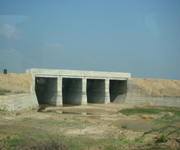 Accelerated Irrigation Benefit Program (AIBP) was launched by Government of India during 1996-97 to provide financial assistance to State Governments with the aim of speeding up the implementation of on-going irrigation projects. Monitoring of the projects covered under the AIBP is periodically done by the Central Water Commission with the help of its regional offices situated all over the country. The conventional monitoring is done through discussions with field authorities and random field checks which often is inadequate in bringing out the factual status.

High resolution satellite data from Cartosat-1 and Cartosat-2 is successfully used for inventory of canal network and other irrigation infrastructure, facilitating objective assessment of physical status with reference to a given time frame (as on the date of satellite data acquisition). The satellite inventoried data with respect to canals and structures can be used not only to prepare canal wise per cent progress but also to identify gaps if any indicating the status of infrastructure. This also facilitates in identifying the critical gaps and bottlenecks in the projects.

NRSC, ISRO has successfully demonstrated the assessment of irrigation potential created through inventory of irrigation infrastructure derived from satellite data. Initially, 103 projects (Phase I-53 and Phase II-50) were carried out by NRSC/ISRO. Based on the utility of such studies, Central Water Commission (CWC) decided to use the satellite data and web services through ISRO-Bhuvan for online monitoring of 150 ongoing projects biannually (pre monsoon & post-monsoon) from the year 2013.

Satellite derived information will be useful for monitoring progress of various irrigation projects under construction. The model for satellite based online monitoring is that ISRO Bhuvan would facilitate the hosting of satellite images by the end of September-November and Feb-April time windows for all the projects as desired by CWC and enable the customized tools needed for image interpretation and analysis.

This facility enables CWC Officials periodic inventory of irrigation infrastructure created and assess its status including the canal wise physical progress and identification of gap areas before proceeding on field visit. It will also assist in identifying the critical areas requiring field verification thus significantly reducing the period of visit. Based on the satellite derived irrigation infrastructure information, monitoring report can be prepared. The facility would provide for near real time online monitoring of AIBP funded irrigation projects, including report generation and viewing of spatial irrigation infrastructure information pertaining to 103 projects completed earlier. near real time monitoring of the progress of AIBP funded irrigation projects.


Satellite based Monitoring of Irrigation Projects

SatAIBP